Well, so I kind of fell off the wagon, and bad, over the past week or so, so bad that we went to the grocery store this week and I ever bought bad things! Like skim milk, and stuff to make cookies.. I don't DO that crap anymore…..
Anyways, it's funny, because normally, if I fall off track, I hop right back on, and I'm fine… one or two days off, that's it. But this time, it's been like 9 days. For the most part I have cared about what's been going in my body, but I don't know, lately, I haven't…. I've been craving bad things, wanting bread and wheat, and not really caring about what happens… but today, TODAY, I have felt it.. my head started hurting like it used to before I started eating healthy, I was tired, and I don't feel as amazing as I usually do… it's horrible, and it's because I've fallen off track so much.. HOW hard can this really be??? I go in to start fitting my wedding dress on Saturday and I'm just dreading that… I'm SO scared to gain weight back it's not even funny, so if I'm SO SCARED, then why am I letting myself fall off the wagon so bad? Yeah, I've been stressed beyond belief the past few weeks, but that's no excuse… and yes, I get it, I've been healthy, eating clean, etc, and taking a day off here and there, but this week long hiatus, needs to stop.
Just when things get good – when you start fitting into clothes, when you start feeling good about yourself, and when you start gaining confidence, that's when you get scared you are going to lose it, and isn't that motivation enough to keep going and get back on track??? Well for me it is… I love the way I feel right now, and the way I look and LET ME TELL YOU, feeling "beautiful" for the first time ever…. i never ever want that to go  away…. never… why isn't this easier? UGH
Really? BY THE WAY IM SICK OF THIS SHIT on FACEBOOK on freaking WOMEN'S LIFESTYLE… i mean honestly, how could anyone think this is real, and how could anyone think that you can just "melt away belly fat".. if I can "melt away belly fat" then I better be able to turn my shit into money because someone is smoking SOMETHING if they think A) this person actually lost weight… you do know the tricks for making yourself look better in a transformation pic right? IF NOT READ THIS HAHA (THE HIDDEN TRUTH BEHIND TRANSFORMATION PICS)…. sidebar – in that article, the end hits home…. this is what she says:
So my advice to you if you want to change your physique, is to make small changes towards your goals. Stop wanting results in a week, or a month, make changes you can sustain- be patient and consistent. Dont stop going out with your friends, don't carry rice and veggies around in your backpack. Learn about food, come up with an achievable plan for you and most importantly enjoy how you exercise and live your life.
But seriously, this crap, does NOT make me want to lose weight…. so yeah, Women's Lifestyle, keep lying, and posting this shit, it makes me so happy 🙂
BEST PART ABOUT FALL —– PUMPKIN EVERYTHING – and since im watching what i'm eating, i thought i would find some yummy recipes
Pumpkin Pie Brownie 'Cupcakes'
Adapted from Vegan Cupcakes.
Ingredients:
Pumpkin Brownie Layer:
1 cup canned pumpkin
1/2 cup + 3 tbsp sugar
1/4 cup coconut oil, softened
3/4 cup white kamut flour (or white)
1.5 tsp pure vanilla extract
1 tbsp cornstarch (or arrowroot/tapioca)
1/4 cup dutch processed cocoa powder
1/2 tsp sea salt
1/2 tsp baking soda
Pumpkin Pie Layer:
1 cup canned pumpkin
2 tbsp cornstarch (or arrowroot/tapioca)
1 tsp pure vanilla extract
1/3 cup sugar
3 tbsp almond milk
2 tsp pumpkin pie spice (or 1 1/4 tsp cinnamon, 1/2 tsp ginger, 1/4 tsp nutmeg)
Shaved chocolate, for garnish
Directions:
1. Preheat oven to 350F and grease a muffin tin.
2. For brownie layer: In a stand mixer or by hand, mix together the coconut oil, pumpkin, vanilla, and sugar until blended well. Sift in the flour, cocoa powder, cornstarch, baking, soda, sea salt and mix until incorporated. Take about 2 tbsp of the mixture and place in muffin tin. Wet fingers and spread around evenly so it is smooth. I made 8 large cupcakes and 2 small ones.
3. For pumpkin layer: In a large bowl mix together the pumpkin, vanilla, and milk. In a small bowl, mix together the cornstarch, sugar, and pumpkin pie spice. Slowly add the dry ingredients to the wet and mix well until all clumps are gone. Now add approx 1.5-2 tbsp of the pumpkin pie mixture on top of each brownie in the pan. Garnish with grated chocolate (I used a lemon zester to grate the chocolate).
4. Bake for 30 minutes at 350F. Remove from oven and cool for 20-30 minutes and then move to the fridge to chill for 1.5 hours.
5. Serves approx 8-10. I made 8 large cupcakes and 2 small ones (for kids). Enjoy with vegan vanilla ice cream.
This brownie batter is UNBELIEVABLE.  Quite possibly the best brownie batter I've ever tasted.
Pumpkin Pie Quinoa Breakfast Casserole
Author: Leanne Vogel
Prep time:  
Cook time:  
Total time:  
Serves: 2 servings
This sweet and crunchy topped quinoa bake is the perfect way to start off the weekend. And heck, who doesn't like the taste of dessert for breakfast?
Instructions
Preheat oven to 350F and lightly oil a 4 cup casserole dish. [I used a small dab of coconut oil]
In a small bowl combine all ingredients, minus the topping. Stir until fully mixed, then pour into prepared casserole dish.
Cover and cook for 30 minutes.
Meanwhile, combine all topping ingredients. After the 30 minutes are up, remove casserole from oven and sprinkle topping over top of the casserole.
Return to the oven and cook uncovered for another 10-15 minutes, or until golden. [Mine was ready in 12 minutes]
Read more: http://ohsheglows.com/2010/10/01/pumpkin-pie-brownie-cupcakes/#ixzz2dRwq6ZLB
Pumpkin Pancakes
INGREDIENTS
1 cup whole wheat flour
1/4 cup ground chia seeds (can use flax meal)
1 tablespoon of sugar
2 teaspoons baking powder
1/2 teaspoon cinnamon
1/2 teaspoon ground ginger
1/8 teaspoon nutmeg
pinch of ground cloves
1 cup 2 percent milk
6 tablespoons canned pumpkin puree
2 tablespoons canola oil
1 egg
DIRECTIONS
In a large bowl whisk together all the dry ingredients.
In a separate bowl, stir together milk, pumpkin puree, oil, and egg.
Fold wet mixture into dry ingredients.
Oil a skillet over medium heat; pour in 1/4 cup batter for each pancake. Cook pancakes about 3 minutes per side; serve with toasted pecans and maple yogurt.
Makes between 8 and 10 pancakes.
Drink This: Pumpkin Spice Smoothie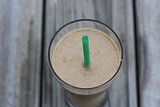 INGREDIENTS
1/2 cup pumpkin (canned or freshly cooked)
1/2 frozen banana
3/4 cup almond milk
1/2 scoop (or approx. 2 T) vanilla protein powder
1 tsp cinnamon
1/2 tsp pumpkin pie spice
pinch of ground ginger
DIRECTIONS
Put all ingredients in the blender and blend until smooth. Pour into a glass and enjoy!
Skinny Pumpkin-Banana Bars
For more recipes like this check out my blog, Whipped, at www.whippedbaking.com!
I love regular pumpkin bars – but the addition of banana makes the flavor in these so smooth and compliments the pumpkin perfectly.  Topped with a light cream cheese frosting – these are heaven. Plus these are a much lower cal way to indulge in a fall favorite – all of the flavor and none of the guilt!
Note: These can also easily be made into a dairy-version by swapping out the soy yogurt for regular yogurt, dairy-free cream cheese for regular, and vegan margarine for regular
2 eggs
1/2 cup mashed banana
1 2/3 cups granulated sugar
1/2 cup vegetable oil
1/2 cup soy yogurt (or regular yogurt)
15-ounce can pumpkin
2 cups sifted all purpose flour
2 1/4 teaspoons baking powder
2 teaspoons ground cinnamon
1 teaspoon nutmeg
1/4 teaspoon allspice
1 teaspoon salt
1 1/4 teaspoons baking soda
8-ounce package dairy-free cream cheese (I like Tofutti brand) , softened
1/2 cup vegan margarine (I like Earth Balance), softened
2 cups sifted confectioners' sugar
1 teaspoon vanilla extract
1. Preheat the oven to 350 degrees and grease a 9×13 inch baking pan.
2. Using an electric mixer at medium speed, combine the eggs, mashed banana, sugar, oil, soy yogurt, and pumpkin until light and fluffy.
3. Stir together the flour, baking powder, cinnamon, nutmeg, allspice, salt and baking soda
4. Add the dry ingredients to the pumpkin mixture and mix at low speed until thoroughly combined and the batter is smooth.
5. Spread the batter into your greased baking pan and bake for 40 minutes or until a toothpick inserted into the center comes out almost clean with most crumbs clinging to it. Let cool completely before frosting.
6. Combine the dairy-free cream cheese and vegan margarine in a medium bowl with an electric mixer until smooth.  Add the sugar and mix at low speed until combined.  Stir in the vanilla and mix again. Spread on cooled pumpkin bars.
Pumpkin Caipirinha
INGREDIENTS
1/2 lime, cut into 4 pieces
1/2 oz. agave nectar
crushed ice
1 1/2 oz. cachaça (can substitute with a white rum)
1 1/2 oz. pumpkin puree
1/2 oz. ginger liqueur (can substitute with 1/2 oz. homemade ginger simple syrup or 1 tsp. freshly peeled and grated ginger)
For garnish:
grated nutmeg
lime wedge
pumpkin sliver
DIRECTIONS
The base of this recipe uses cachaça — a popular distilled spirit from Brazil that is made from sugarcane. If you don't have cachaça, feel free to use rum instead. Both spirits are made from unrefined sugars, though cachaça tends to be a tad tarter and sharper.
In a cocktail shaker, combine lime and agave nectar (if using fresh ginger, add it at this time); muddle. Add ice, cachaça, pumpkin puree, and ginger liqueur; shake well. Garnish drink with grated nutmeg, pumpkin sliver, and lime wheel.
Makes one cocktail.
Pumpkin Protein Cheesecake Mousse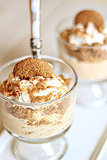 INGREDIENTS
1 cup low-fat or fat-free cottage cheese
1/2 cup pumpkin puree
1/4 cup milk of choice
1 tbs sugar-free instant butterscotch (or vanilla) dry pudding mix
1/2 tsp pumpkin pie spice
1/2 tsp cinnamon
3-6 packets stevia, or to taste (or sweetener of choice to taste)
Optional toppings:
gingersnaps
light whip cream
DIRECTIONS
Place everything in a blender, and blend until smooth. Serve immediately or cover and place in the refrigerator until chilled — at least one hour. Top with light whip cream and/or crushed gingersnap cookies if desired!
SMOKED PUMPKIN CHILI
What you'll need . . . 
1 medium to large cooking onion, chopped
3 large cloves of garlic, chopped
1 tablespoon olive oil
2 cans (or one large can) of dark kidney beans, drained and rinsed.
1 can of low-sodium corn kernels, drained and rinsed
1 large (28 ounce) can whole peeled tomatoes, keep the juice
1 can pumpkin puree
1 cup vegetable broth (or beer of choice)
1 tablespoon smoked paprika (or regular)
1 teaspoon black pepper
1/2 to 1 teaspoon salt
10 to 15 sage leaves (optional)
Method . . . 
In a large saucepan, heat the olive oil over medium-high heat and add the onions and garlic. Cook until onions are tender.
Pour in the pumpkin puree and vegetable broth (or beer). Mix. Pour in the can of whole tomatoes (with the juice). Mix again.
Then add the kidney beans and corn kernels. Season with the paprika, black pepper, and salt.
Bring mixture to a boil, stirring occasionally. You'll want to use a spatula or mixing spoon to crush the whole tomatoes a bit. Keep them chunky, but try to crush each one a couple times to distribute evenly.
Then lower the heat to a simmer and cover. Cook for 45 minutes. Again, stir occasionally.
Add in the sage leaves (I rubbed mine a bit with my fingers to get the flavor out before dropping into the pot). Cook at a low simmer for another 15 minutes.